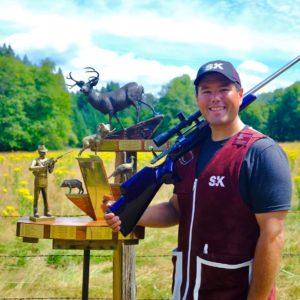 Team SK's Erich Mietenkorte takes two titles at State Champs
Many rimfire enthusiasts also shoot and compete in centerfire disciplines, and Team SK shooter Erich Mietenkorte is one who's done a pretty awesome job at it. He brought home two titles from the 2020 Washington High Power Silhouette State Championship. Erich scored a 68/80 placing him first in the Standard Rifle. After an intense shoot-off, he also won the Hunter rifle with a score 65/80.The Washington High Power Rifle Silhouette State Championship was held at the Pe Ell Sportmen's Club in Pe Ell, WA August 2-3. All High Power Silhouette shooting is done from the offhand position with centerfire rifles chambered in 6mm or larger. Steel targets are engaged at distances of 200, 300, 385 and 500 meters for score.In centerfire matches, Mietenkorte competes with Lapua 6BR cases and Vihtavuori N140 powder loaded with Berger 6mm 95 Grain VLD Target bullets for the chickens, pigs and turkeys, and 6mm 115 Grain VLD bullets for the Rams.

"Great people, awesome weather, and good shooting made for an incredible match! The top quality components from Lapua, Berger Bullets, and Vihtavuori Powders allow me to be at the top of my game. I always train for silhouette competition with SK rimfire ammunition. SK ammo gives me the accurate feedback I need!"Congrats Erich!