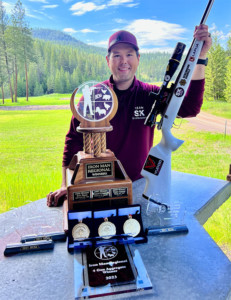 Team SK Member Mietenkorte Wins Iron Man Championship
Team SK's Erich Mietenkorte has won the 2023 Iron Man Regional Silhouette Championship for the third consecutive year. Congrats Erich!!

Erich, who scored a 280/320, won three out of the four championships during the two-day event. The 2023 Iron Man Regional Silhouette Championship was held June 3-4 and hosted by the Deep Creek Shooting Range in Missoula, Montana. It brought shooters from Washington, Montana, South Dakota, Missouri, and Canada.
"In the past I've been asked why I shoot silhouette and not a different discipline and the first thing that comes to mind is, when I'm at a silhouette match, I just feel at home. The people are incredible, the shooting is challenging, and it's just plain fun! Silhouette competitors are a big part of my second family and I'm happy to be able to shoot and support a sport that brings families together to make great memories," commented Erich.
"Training with SK Ammunition, specifically Rifle Match, allows me to hone my abilities. There is no other ammunition I trust going into a big match like this. Training with rimfire allows me to reinforce offhand shooting fundamentals, which really sets me up for success on the high-power range as well," he stated.