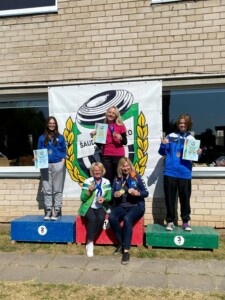 SK's Vaickelionytė crowned Junior Champion in Lithuania
Congratulations to SK sponsored shooter Ugnė Vaickelionytė for winning the Junior Championship of Lithuania. The event took place on 10th June in Rokiškis, Lithuania. "It was my last Lithuanian junior championship and I was quite thrilled about it. The weather was sunny, I was ready to show my best for the last time and I did just that! The final series were tough but I somehow managed to calm myself down and secured the first place!" she commented.
Ugnė was also successful in the Lithuanian Team Championships, where she and her team members Lina Zajanckauskiene and Jolita Noruviene took 2nd place. Congratulations to the whole team!