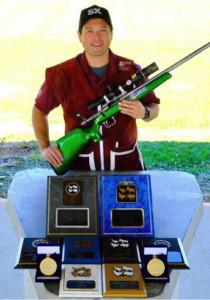 SK's Erich Mietenkorte Wins Missouri High-power Silhouette Regional
Team SK member, Erich Mietenkorte, fresh from his win at the "Iron Man" Regional, Silhouette has won the Missouri High-power Silhouette Regional. Mietenkorte scored first place in both High-Power Standard and Hunter rifle with a score of 101 X 120 and 93X120, respectively.
The Missouri High-Power Rifle Silhouette Regional was hosted by the Bench Rest Rifle Club of St. Louis on June 12-13th in Wentzille, MO. The two-day match consisted of 4 40-shot relays on Saturday and 2 40-shot relays on Sunday. With centerfire the chicken targets are at 200 meters, pigs at 300 meters, turkeys at 385 meters and rams at 500 meters.
Mietenkorte stated, "Even though the temperature was in the upper 90s and the humidity was very high my rifle loads didn't seem to be affected. I had complete confidence in all the components from Lapua, Berger, and Vihtavuori. I was able to shoot consistently throughout all six matches and finished the aggregate in 1st place for both Standard and Hunter rifles." Mietenkorte shot along side his friend, Team Lapua shooter, Mark Pharr who took 2nd overall at the Missouri High-Power Regional.