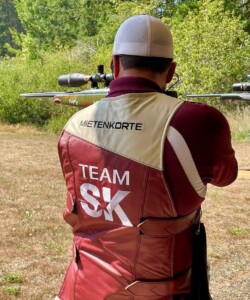 SK's Erich Mietenkorte Secures Washington Smallbore Silhouette State Championship
In a showcase of precision marksmanship, Team SK member Erich Mietenkorte won the Washington Smallbore Silhouette State Championships held at the Pe Ell Sportsman's Club on August 26th and 27th.
The two-day state championships had competitors shooting two, 60-shot relays in both Standard Rifle and Hunting Rifle categories.
On Saturday, shooters competed in Standard Rifle, which allows .22 caliber rimfire rifles up to 10-lbs 2oz without any trigger pull-weight regulation (other than it being safe). Sunday, Hunting Rifle relays were fired with rifles limited to 8-1/2 lbs and a minimum two-pound trigger pull. All stages are fired from the offhand position with each match consisting of 15 chicken targets at 40 meters, 15 pig targets at 60 meters, 15 turkey targets at 77 meters, and 15 ram targets at 100 meters.
Mietenkorte fired a 56/60 and 54/60 on Saturday, and a 53/60 and 54/60 on Sunday, even with the tricky wind conditions and out of character high temperatures.
The Washington Smallbore Silhouette State Championship's results were as follows:
Smallbore Standard Rifle
State Champion – Erich Mietenkorte 110×120
2nd Place – Eric Boos 101×120
3rd Place – Paul Davis 98×120
Smallbore Hunter Rifle
State Champion – Erich Mietenkorte 107×120
2nd Place – Eric Boos 105×120
3rd Place – Paul Davis 102×120
"My training ammunition of choice is SK Rifle Match and Long Range Match," stated Mietenkorte. "SK is the only ammunition I trust to give me the feedback I need in my training sessions and is a huge part of my success."