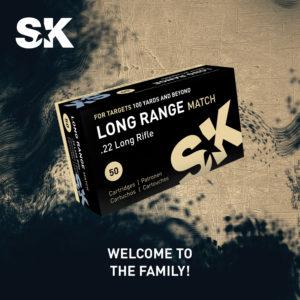 SK Launches New Long Range Match .22 LR Ammunition
We are proud to announce our latest offering: SK Long Range Match. New for 2019, Long Range Match was developed for demanding .22 LR enthusiasts routinely acquiring targets out to 100 yards / meters and beyond. It is purpose-built for today's long range rimfire shooting disciplines ever-increasing in popularity, such as PRC, tactical rimfire, long range silhouette and more.
SK Ammunition Sales & Marketing Manager Joerg Melcher states, "Historically, high-quality match ammunition has been a barrier to entry for competitive target shooting. SK Long Range Match allows shooters to gain access to new competition rimfire rifle and pistol disciplines without overwhelming their pocketbooks."
SK Long Range delivers accurate, high-quality rounds that reliably feed through your competitive target rifle. Centerfire competition shooters will also find SK Long Range Match the ideal training companion to prepare with .22 platforms similar to their big bore configuration. Whether you're actively competing in today's popular long range rimfire sports or connecting with LR targets from the firing line at your local club, instill the confidence you deserve with new SK Long Range Match.