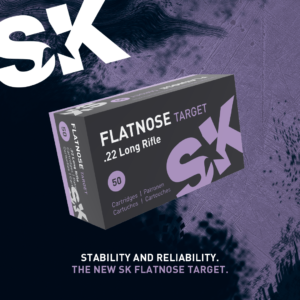 New products! Introducing SK Flatnose rimfire rounds
FLATNOSE™ MATCH
The new Match cartridge from SK. The SK Flatnose™ Match is a newly-developed rimfire cartridge especially for rifle shooting at 50 m. The flat projectile tip optimizes ballistic
properties, which improves precision. It is characterized by high reliability and optimal hit performance. Whether it is about intensive training or a competition, the SK Flatnose
Match delivers exceptional results. Any goal can be reached with this premium ammunition, manufactured with greatest care and using our top technologies.
Convince yourself. The new SK Flatnose™ Match.
FLATNOSE™ TARGET
The new standard cartridge of the SK family. The SK Flatnose™ Target is a new development in our standard line. It has a flattened projectile with improved ballistic properties and benefits from years of experience with developing and producing small caliber ammunition. This turns the SK Flatnose Targetinto the right companion for training and competition.
Stability and reliability. The new SK Flatnose™ Target.