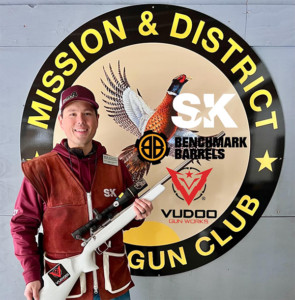 Erich Mietenkorte is the 2023 Bernd Meier Invitational Silhouette Champion
Team SK member Erich Mietenkorte kicked off the 2023 competition season with a win at the 2023 Bernd Meier Invitational Silhouette Championship March 11 and 12th. Erich secured the title with a grand aggregate Smallbore score of 145×160 and a 72×80 in High-Power.
Erich's scores are as follows:
Smallbore Standard Rifle 73×80

Smallbore Hunter Rifle 72×80

High-Power Standard Rifle 37×40

High-Power Hunter Rifle 35×40
The 2023 Bernd Meier Invitational Silhouette Championship, which honors long-time silhouette shooter, Bernd Meier, was held at the Mission & District Gun Club in Mission, British Columbia. The match brought shooters from both Canda and the United States to compete in Smallbore and High-Power Silhouette rifle matches. Saturday had shooters competing in two Smallbore Standard and two Smallbore Hunter Rifle matches. Competitors engaged targets at 40, 60, 77 and 100 meters. The silhouette range is unique due to shooting distance limitations, having competitors in the high-power discipline shooting chickens, pigs, turkeys and rams at 200, 243, 279 and 328 yards, compared to traditional High-Power Silhouette distances of 200, 300, 385 and 500 meters.
Erich competed with his new Vudoo Gun Works single shot rifle and commented, "The time I spent training with SK Rifle Match and learning the shooting characteristics of this new rifle, was well spent and led to my success in Canada."
Erich joined the SK Team in 2020 and trains with SK Rifle match for Smallbore silhouette, and uses Lapua 6.5 X 47 cases, Vihtavuori N140 powder, and Berger projectiles while competing in High-Power silhouette.